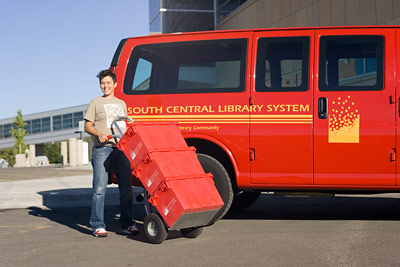 What is LINK Express?
A unique service offered by the South Central Library System (SCLS) providing remote checkout/check-in and direct delivery of LINKcat public library materials to agencies, businesses, educational facilities and organizations in Adams, Columbia, Dane, Green, Portage, Sauk and Wood Counties.
• For general information on the Library Interchange Network, visit the "About LINKcat" page.
• Learn how Edgewood College staff gains the research and educational advantage for their students, faculty, and staff with South Central Library System's convenient LINK Express service. Hear their stories in this video testimonial (note: must have Flash player installed to view).
How It Works:
1. Participants are issued a LINK Express Bar Code by SCLS Delivery. The Bar Code can only be used for online remote access to LINKcat.
2. Using the Bar Code issued to them, participants can log on to LINKcat to place holds and manage their account.
3. After you find an item in the LINKcat and place a hold on it, select "ZZZ-Authorized users only!" as your pick up location. The item will then be sent by the lending library to SCLS Delivery, checked out to your account, and delivered to you on your next scheduled delivery day. A receipt with a list of item due dates will accompany each delivery.
4. Participants are required to manage materials once they are delivered, and are responsible for lost or damanged materials checked out to their accounts. SCLS Delivery staff can provide information on best practices for tracking materials that are distributed to users within a participating organization.
5. Return materials will be picked up by SCLS Delivery based upon your service model:
For participants with regularly scheduled stops, return items will be picked up on your next scheduled stop.
For participants receiving on-call delivery service, stops are made only when there are materials to be delivered to you, or if you have contacted SCLS Delivery to arrange for a pick up of your return items.
Items can also be returned at your local SCLS public library.
Policies
1. Hold limit: You may have a maximum of 75 holds on each LINK Express bar code. Additional bar codes may be acquired at the standard monthly account maintenance fee.
2. Check out limit: You may check out up to a maximum of 100 items at a time on each LINK Express bar code.
3. Overdue fines: There are no overdue fines.
4. Lost materials: Overdue items reach "lost" status after 29 days. When an item is considered lost, your account is assessed a replacement fee. If the lost item fees total $50.00 or more, your LINK Express Service will be suspended. Your account will not be re-activated until either the lost items are returned or paid for.
5. Damaged materials: The $50.00 suspension limit also applies to damaged materials.
6. Payment for lost or damaged materials: All fees for either lost or damaged materials are payable to the owning library. Please contact SCLS Delivery for owning library payment information.
7. Service refunds: SCLS Delivery must be contacted to cancel service. Refunds will be issued for unused prepaid service beginning the 1st of the following month after notification of service cancellation. Refunds will not be issued due to a lack of service use or due to suspension of service because of lost/damaged fees reaching $50.00 or more.
What Does It Cost?
Service rates include two cost elements: a monthly account maintenance fee and a per-stop delivery charge. Please contact us to inquire about LINK Express delivery service options and more detailed pricing information based on your organization's unique needs.
Payments are made on a prepaid basis according to each participant's particular service model. K-12 schools are invoiced a the beginning of each semester. All other participants are invoiced every six months (January 1-June 30 and July 1-December 31).
For More Information:
Please fill out our online form with your contact information, and SCLS Delivery staff will contact you by your preferred method.
For more information, contact: