•Wisconsin Libraries' Delivery Service Network Use Policy
•Labelling items for delivery within SCLS
•Labeling items for intersystem delivery
•Other types of items
•Red Basket Pick-up
Wisconsin Libraries' Delivery Service Network Use Policy
The network is made up of Wisconsin public libraries, UW System libraries, private university and college libraries, Wisconsin Technical College libraries, public and private K-12 school libraries, government and institutional libraries, corporate and other special libraries. In addition, via a connection with MINITEX, the Wisconsin network connects with libraries in Minnesota, North Dakota and South Dakota. Material routing information and a current full listing of network members is available online.
Any member of the Wisconsin Libraries' Delivery Service Network can send and receive the following items to any other member of the same network using the statewide backbone delivery service operated by the South Central Library System (SCLS).
Resource-sharing materials
Return materials - Note: Library materials owned by one participating delivery network library, but returned at another participating delivery network library, may not always be able to be checked in at the library where the item was returned. When this is the case, the item(s) remains checked out to the borrower until the owning library receives it and checks it in. When these items are placed into the delivery network for return to the owning library, the responsibility for the replacement cost of these items, should they become lost while in transit, remains with the borrower. The handling library is not responsible for the replacement cost of these items if lost.
Gift materials - If only a few items, attach a routing label and place in the red delivery basket. If you are sending a larger quantity please place items in a sturdy cardboard box, no larger than a red basket, and place routing label on outside of box. If sending more than 2 boxes please contact SCLS delivery in case other arrangements are needed to handle the extra volume in the delivery vehicle.
Wisconsin Libraries Distribution Service materials (aka: All-library mailings), library equipment and bulky items require prior approval and coordination of both the statewide delivery service (SCLS) and the respective public library system delivering materials to and from its member's libraries. Special requests to transport items beyond the scope of the routine red basket exchange can be made with the SCLS Special Request Coordinator. SCLS will make deliveries outside of scheduled routes to or/and from non-network members on a cost recovery, time and mileage basis.
SCLS Delivery maintains a list of items lost or found in delivery.  Please refer to the "Lost and Found in Delivery" page for information on these items and instructions for adding/removing items from the list.
Labelling items for delivery within SCLS
Items being sent to fill hold requests for SCLS libraries or for another specific/special purpose require a routing label. There are three types of routing labels used for delivery within the South Central Library System: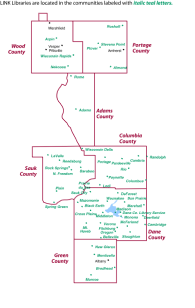 Yellow Post-It notes (3M #653 - 1 3/8" X 1 7/8") are used to send hold request items between libraries. To use them, clearly print the 3-letter code of the destination library on the Post-It and place the slip firmly onto the front of the item.  Use a small strip of removable tape if necessary for items with textured covers or as otherwise required.  To determine a library's three-letter code, refer to this printable list of SCLS library codes (PDF) (or a version with Madison Public Libraries separated).
Direct Charge (yellow) routing labels contain a list of libraries and are used for non-LINK library holds.  To use these labels, check the box in front of the destination library, then tape the label to a rubber band placed around the item.
General Purpose (goldenrod) routing labels have blanks to be filled in by the shipper to indicate the destination, date shipped, notes, and the name of the shipper. To use the golden-rod labels, fill out the appropriate information, then tape the label to a rubber band placed around the item. If the destination is a particular department within a library or organization, please further specify this information on the label (ex: "MPL-Central: Technical Services," "Portage PL: YS," etc.)
Items being returned to an SCLS member library from another SCLS member library do not require a routing label.  For items with no routing label attached, the library's ownership tag becomes the routing label. Be sure that your library's ownership tag is easy to find in order to avoid any delays in returning the material to its owner.
Pre-printed copies of routing slips and blank yellow post-it notes are available from SCLS Delivery upon request.  Please send a request to the general delivery e-mail or call (608) 266-6039.
**Notes on bundling items together with rubber bands
All materials in a bundle must be for the same destination library
All materials in a bundle must be of the same or roughly the same size
Maximum height of a bundle should be no more than 4 inches. 
Avoid creating "pyramid" bundles of items of various sizes.  Such bundles are difficult to stack in baskets, wasting space.
Labeling items for intersystem delivery
For delivery to other Wisconsin Public Library Systems or destinations otherwise outside of the South Central Library System, please use the SCLS Delivery ILL ("pink") label. Please use the following guidelines in filling out the required information for the label:
Check the Delivery Network List to see if the receiving library is a member of the Wisconsin Libraries' Delivery Network. If not, then another means of shipment, i.e. US Postal Service or commercial parcel/courier services, will be required to send the item.
All items sent via the Wisconsin Libraries' Delivery Network must be labelled with the following routing information legibly and prominently displayed:

Route To: (system delivery hub) - 2nd table column
For: (delivery network member) - 1st table column
Date: (date put into delivery)
From: (library putting item into delivery)
Notes
A printable version of the SCLS Delivery ILL ("pink") label (PDF) is available for use by ILL staff. The file is in PDF format and contains form fields to allow routing information to be entered electronically and then printed using Adobe Acrobat Reader.  The file can also be downloaded and saved for later use, although changes will not be saved.
Routing Error Forms (PDF) - for returning mis-routed items.  Please fill out all available contact information and attach the form to the item being returned to sender. 
Other types of items
Cardboard Boxes
Attach a routing label with regular scotch tape. Cross out any other routing information elsewhere on the box.
Inter-departmental Envelopes
A routing label is not required. Cross out any previous routing information and write the name of the destination library directly on the envelope.
Art Objects and Prints
These materials require special handling and a dedicated delivery transfer to facilitate their shipment. Contact us for the cost of this special service.
Large Numbers of Cartons, Bulky Items, Furniture, Etc
These materials require special handling and a dedicated delivery transfer to facilitate their shipment Contact us for the cost of this special service.
Red Basket Pick-up
Red Baskets
Place all materials for pick up into red delivery baskets. These items will be brought back and sorted at SCLS Delivery. Be sure to flip the basket label to read "South Central Library System" to indicate to the driver that it is to be picked up. If you have extra baskets or an oversupply of basket labels please send those back to delivery. If you are in need of either of these items please contact us.
Oversize Items
Place items that are too large to fit in the closed red basket next to or on top of the baskets in your delivery pick up area for our driver.
For more information, contact: